Theme for 2019: Industry-Government Collaboration
SAME's Run to 2020 push is for participation and for supporting Industry Government Engagement. The U.S. Government has huge engineering and construction challenges that industry can support including the USACE $17.4B supplemental appropriations for HIM (Harvey - Isabel - Maria) hurricane recovery and flood risk mitigation, border security work, climate mitigation, etc.
Upcoming Events

(click panels below to expand)
(Calendar version below)
October Community Service - Up With Trees
Up with Trees
Date and Time: October 26, 2019 - 9:00AM-12:00PM
Location: Hwy 11 North of Pine St. Parking
Need: We are looking for at least 20 volunteers! Up with Trees will provide tools, gloves, and instruction. Volunteers may bring water a reusable bottle, and Up with Trees will provide water from coolers for refills. Projects happen rain or shine, so please check the weather beforehand and come prepared!
To learn more about Up with Trees, please visit: https://www.upwithtrees.org/
POC: Anna Childers
RSVP to Anna
Sponsor: Jacobs

October Young Member Event
Tulsa Post with ASCE Tulsa Branch Event. For Young Members and Fellows of both organizations.
RSVP by October 25,2019 on SignUpGenius (click here!)
POC: Emmett Reedy
November AE and Construction Career Opportunities
Date and Time: November 12, 2019
Location: Stillwater, OK
Joint meeting with Oklahoma State University
SAME Small Business Conference
Date and Time: November 20 - 22, 2019
Location: Dallas, TX
---
Tulsa Post Foundation Credentialing Reimbursement Program Applications are HERE. Applications will be accepted until November 30, 2019, or until funds used. (Applicants must have taken and passed or plan to take and pass a credentialing exam between October 1, 2018 and September 30, 2019 to be eligible for FY19 reimbursement)
---
The Tulsa Post sponsored Madigan Kinsey for the USAF Academy STEM Camp this past Summer. Some photos of her experience are located HERE
---
Save the Date: 2020 Meet the Corps is tentatively set for March 3-4, 2020 at the River Spirit Casino
---
September 2019 Newsletter is HERE
---
Presentations from the October 2019 Meeting are HERE
Please note: Up to 1 PDH will be made available and certificate printed at all technical SAME meetings. Presenters will be eligible to receive 3 PDHs. PDHs for some past meetings can be found on the Archives page.
---
Note: You can subscribe to the calendar using the + sign above if you use Google Calendars. You can also copy each individual event to your calendar by clicking on the "copy to my calendar" link within each event.
Robotics Demonstration
Tulsa Post of the Society of American Military Engineers

The Tulsa Post of the Society of American Military Engineers maintains more than 50 sustaining member firms and more than 350 individual members. Tulsa has also been home to the Tulsa District Corps of Engineers for more than 60 years! All of our meetings are open and anyone interested is encouraged to attended our meetings.
Visit our National Site: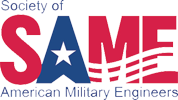 The mission of the Society of American Military Engineers is to promote and facilitate engineering support for national security by developing and enhancing relationships and competencies among uniformed services, public and private sector engineers.