Theme for 2020:
Run to the next 100 years of SAME – Leading the Way in Industry-Government Collaboration to Support the Nation's Security
Tulsa has led the way in Industry-Government Collaboration on infrastructure and cost engineering issues. In 2020, we will celebrate SAME's Centennial with our many industry and government partners while expanding our efforts at working together to solve issues by engaging new Federal, state and local agencies and other professional organizations.
Upcoming Events

(click panels below to expand)
(Calendar version below)
---
Registration is OPEN: 2020 Meet the Corps is March 3-4, 2020 at the River Spirit Casino. Registration is HERE! Beat the rush and make your hotel reserverations HERE. Also check out the EVENT WEBSITE
Early Registration ends on February 16, so HURRY. Also, no Refunds of Registration Processing Fees after February 16.
Use the link below to sign up for DAY 2 (4 MARCH 2020) of Meet-the-Corps to meet one-on-one with Tulsa District government representatives for TWO slots only per company will be live at 10am CT 14 February. Please only 2 sign-ups per company.
Tulsa SAME Run to 2020: As part of the kickoff of the conference, we will be having a SAME Centennial 5K and 1 mile Fun Run. We welcome all levels of runners and walkers. The chip-timed races will be taking place on 03 March 2020 at 7:30 AM on the River Parks Trails along the Tulsa's iconic Arkansas River, just behind the River Spirit Casino's Margaritaville Restaurant. (8330 Riverside Pkwy, Tulsa, OK 74137). All registered participants will receive an official race shirt and medal. Age Group winners of the 5K race will be announced at the Meet the Corps Conference at the River Spirit Casino on 03 March 2020 between 10:00 - 10:30 AM. Sign up HERE.
---
Engineering & Construction Camps Applications are Open.
Online applications for the 2020 SAME Engineering & Construction Camps are now open. The deadline to apply is March 16, 2020. 
Visit www.same.org/stemcamps for more information and start the application process.
SAME's Engineering & Construction Camps provide high school students entering their sophomore, junior or senior years with the opportunity for hands-on learning, mentoring, and activities at camps hosted with the military services. The camps offer a rigorous experience for students interested in exploring STEM skills and careers. Campers gain a sense of what it takes to become a STEM professional and what options exist to explore that interest from high school to college and beyond. 
2020 Engineering & Construction Camps:
SAME/U.S. Army Camp: Vicksburg, Miss. | June 14-20
SAME/U.S. Navy Camp: Port Hueneme, Calif. | June 21-27
SAME/U.S. Marine Corps Camp: Camp Lejeune, N.C. | June 21-27
SAME/U.S. Air Force Academy Camp: Colorado Spring, Colo. | June 24-30 
SAME/U.S. Air Force Camp: Scott AFB, Ill. | July 19-25
---
The Tulsa Post sponsored Madigan Kinsey for the USAF Academy STEM Camp this past Summer. Some photos of her experience are located HERE
---
December 2019 Newsletter is HERE
Presentation from the October Tulsa Flood of 2019 Meeting are HERE
Please note: Up to 1 PDH will be made available and certificate printed at all technical SAME meetings. Presenters will be eligible to receive 3 PDHs. PDHs for some past meetings can be found on the Archives page.
---
Note: You can subscribe to the calendar using the + sign above if you use Google Calendars. You can also copy each individual event to your calendar by clicking on the "copy to my calendar" link within each event.
Robotics Demonstration
Tulsa Post of the Society of American Military Engineers

The Tulsa Post of the Society of American Military Engineers maintains more than 50 sustaining member firms and more than 350 individual members. Tulsa has also been home to the Tulsa District Corps of Engineers for more than 60 years! All of our meetings are open and anyone interested is encouraged to attended our meetings.
Visit our National Site: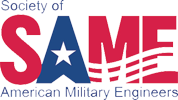 The mission of the Society of American Military Engineers is to promote and facilitate engineering support for national security by developing and enhancing relationships and competencies among uniformed services, public and private sector engineers.