Theme for 2021:
Run to the next 100 years of SAME – Maintain the Pace – Continue the Race
With our many industry and government partners while expanding our efforts to collaborate to solve national security challenges by engaging new Federal, state, local agencies, other professional organizations, and academia. Serve as an integrator for leadership development and technical collaboration by maintaining strong industry and government relationships while giving back to the application of engineering science to include the standup and mentorship of a new college student chapter.
Due to COVID-19, several of our upcoming events will be delivered online/virtually via the internet. Please check here for updates on the status of our monthly meetings.
Upcoming Events

(click panels below to expand)
(Calendar version below)
October Monthly Meeting - 138th Fighter Wing Mission Training Center
October Evening Event - OSU Student Chapter
Date: TBD
Location: TBD
Topic: OSU Student Chapter
Tulsa and OKC Posts Co-sponsor
POC: Anna Childers
November Monthly Meeting - Resilience Workshop
Date and Time: November 9, 2021, 10AM - 1PM
Location: Tulsa District USACE Office - 1st Floor Auditorium (Map)
Topic: Resilience Workshop - Aging Infrastructure and the Infrastructure Bill
Subtopics: Water, energy, transportation, buildings, etc. - at least 2.5 PDH
Speakers: TBD
Sponsor:
November Social Event - Young Members
Date: TBD
Location: TBD
Topic: Young Member/Fellows Event
POC: Emmett Reedy
November Small Business Conference
Date: November 17-19
Location: Atlanta, GA
Topic: National SAME Small Business Conference
More information is HERE
December Christmas Social
Date: December 2, 2021 (Tentatively)
Location: Tulsa Historical Society - 2445 S Peoria Ave, Tulsa, OK
Topic: Christmas Social
POC:
Industry Day 2021 follow-up.
Presentation slides and videos from the presentations are now on the Whova mobile and Web App in their respective Agenda sessions. The PDH form for participants is also located on the Apps in the Documents tab.
The link to the Webb App is HERE
---
June 2021 Newsletter is HERE
---
Tulsa Post Foundation Credentialing Program Applications are HERE
The initial application deadline is September 30, 2021. The purpose of the Tulsa Post Foundation Credentialing Program, is to promote the professional development of SAME Members in support of the SAME Strategic Plan. The establishment of the Credentialing Program serves to fulfill the third objective of the Education and Mentoring Fund Charter which is "to provide financial support to professional development, education and mentoring initiatives that will benefit SAME members ... "
Applicants must have taken and passed or plan to take and pass a credentialing exam between October 1, 2020 and September 30, 2021 to be eligible for FY21 reimbursement
---
Please note: Up to 1 PDH will be made available and certificate printed at all technical SAME meetings. Presenters will be eligible to receive 3 PDHs. PDHs for some past meetings can be found on the Archives page.
---
Note: You can subscribe to the calendar using the + sign above if you use Google Calendars. You can also copy each individual event to your calendar by clicking on the "copy to my calendar" link within each event.
Robotics Demonstration
Tulsa Post of the Society of American Military Engineers

The Tulsa Post of the Society of American Military Engineers maintains more than 50 sustaining member firms and more than 350 individual members. Tulsa has also been home to the Tulsa District Corps of Engineers for more than 60 years! All of our meetings are open and anyone interested is encouraged to attended our meetings.
Visit our National Site: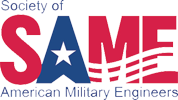 The mission of the Society of American Military Engineers is to promote and facilitate engineering support for national security by developing and enhancing relationships and competencies among uniformed services, public and private sector engineers.